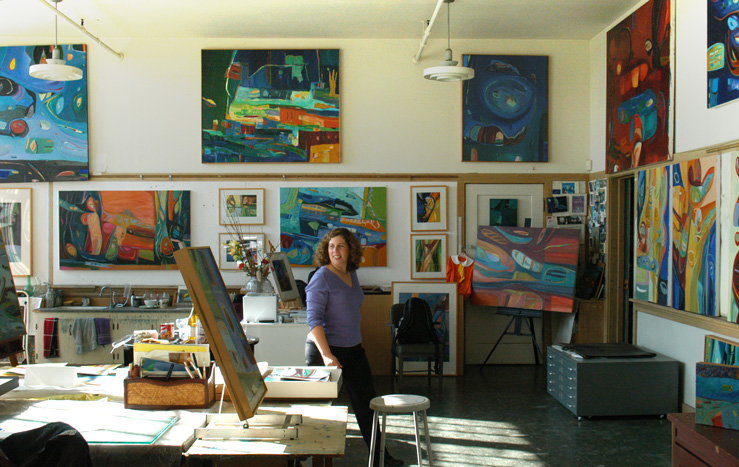 Last year, before anyone had heard of
COVID
, I was fortunate enough to travel to Cantabria in Northern Spain where I visited Paleolithic caves, located in the mountains. These prehistoric caves are home to some of the earliest art ever created by humans. I was struck by the thought of generations of people coming into these caves, drawing horses, bison, reindeer and abstract linear patterns, and leaving their handprints as a signature of sorts for others to see for thousands of years. I was tremendously inspired by this experience and it fueled new work upon my return.
The human necessity to create art remains a timeless instinctive desire. It represents that irrepressible urge to respond to events and emotions that are part of our daily lives and to place one's own handprint on history. That need to untangle and express the unknowable aspects of our imaginations has long been central to the way I approach my abstract art.
COVID
has changed everything for me. While before I traveled widely, my experiences have now been limited to my house and neighborhood. But instead of this stifling my imagination, I have found that it has unleashed a bout of creativity I never would have predicted.
Painting during the pandemic has been a calming force in structuring my day to day life while working at home. When Shelter in Place was implemented in California back in mid- March I paused from driving to my studio where my larger work is created. I began the practice of creating a mixed media series of small paintings both on paper and canvas.
This work I now refer to as my, "Pandemic Kitchen Table Paintings." It was rewarding to work small and feel the completion of a painting, usually after a few days of concentrated effort. My art has always been about that intersection of imagination and experience allowing for the unexpected occurrence. These new watercolor and gouache paintings on paper are part of the "Daydream Series" and provide an opportunity for me to dive into my imagination reflecting on my memories and emotions. Although, reality remains at a distance while painting, the work is not just escapism for me, but a way to reflect on this unprecedented period.
When painting, I am inventing another world that has no morning or midnight, no beginning or end; instead, I try to capture a suspended moment in time. Ideally, the images act with the unexpected quality of syncopated rhythm, accenting a beat normally unaccented.
My paintings are explorations into fields of color, lyrical forms and the ambiguity of spatial relationships. My paintings contain numerous layers of images; often an image will be buried within the work, only hinting at its form's full existence. It is these layers and traces of creation that intrigue me, for they are a way of covering and uncovering, a way of seeing and then seeing again.
My artistic process is stimulated by that moment when rediscovering experiences can trigger the unexpected. It is this heightened anticipation that continually fuels my passion for painting. Ultimately, I strive to create an atmosphere in my work filled with mystery and vestiges of memory that engage the present.
Merl Ross